Presents
Bit O'Honey's Satin-'N'-Lace CGC
Sire: Am/Can CH Aztec Gold Satin Simon CDX
Dam: Bit Of Honey's Sundaze
Whelped: 1/20/92-3/5/01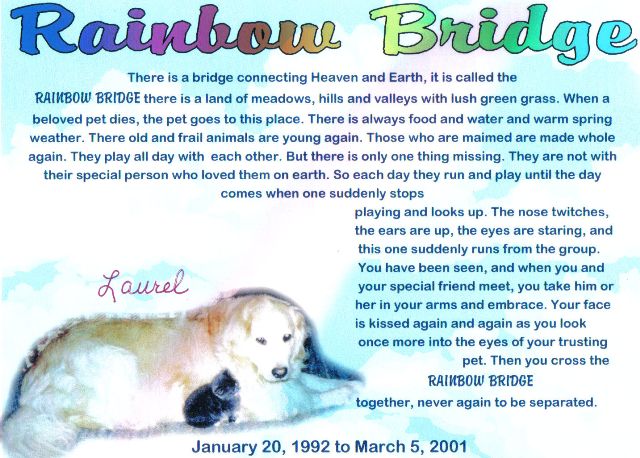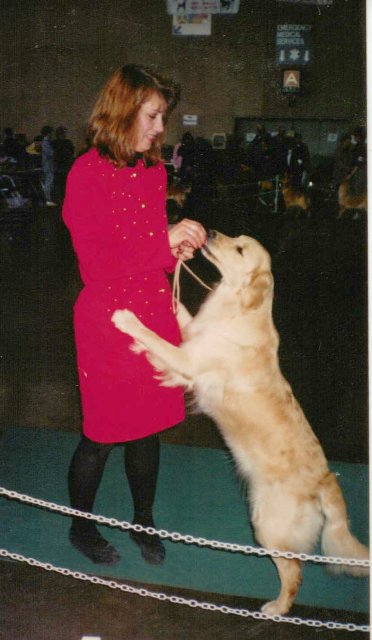 Bit O'Honey's Satin-'N'-Lace CGC "Laurel" 
Achievements:

This was our sweet, much loved "Laurel", my marshmallow fluff I always referred to her as. You will find her in most of all the pedigrees of our dogs on our website, her registered name was
"Bit O'Honey's Satin-'N'-Lace CGC. The kitten in the picture is "Jeeg", that we still have, who is now 7 1/2. She was 1 in a litter of 5 kittens that had been abandoned at only 4-5 weeks old. Laurel cleaned them, & "made them go potty", after we bottle fed them.
To this day, "Jeeg" will go up to all our Goldens and lay in their fur, purring & kneading away. I still miss you Laurel, thank you for stamping your sweet personality into all your kids.
Pedigree of " Bit O'Honey's Satin-'N'-Lace CGC"

Parents
GrandParents
GreatGrandParents
SIRE

Am/Can CH Aztec Gold Satin Simon CDX     

Am/Can/Bda/Jpn CH Laurell's Jiminy Crickett (OS SDHF)

 Am CH Hilltop Pekay's Pistol Pete OS
Am CH Laurell's Susie OD
Am. CH. Gold-Rush Aztec Special Lady
Am. CH. Goldwing True Bear OS SDHF
Am CH Goldwing's Tiffany OD

DAM

Bit Of Honey's Sundaze

Ch. Willow Runs Cloak and Dagger
Am.Can.CH. Sienna SunnyBrae Fire Chaser CD OS SDHF
Twin-Beau-D Eastwynds Chica
Ketchum Hill's Bit Of Honey
Am Ch Quantocks Double Entry CD
El-Le's Amber Of Eagle Hill
Click back on your browser to see more of our Dogs